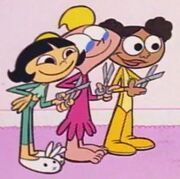 Thread: Do you remember Dee Dee's friends, Lee Lee and Mee Mee from the Cartoon Network Show, Dexter's Laboratory?
Date: August 1, 2011 at 3:12pm (Fanpop)
Opening post
Edit
Well, Do you miss them? What did they look like and what are their ethnic backgrounds? And do you recall any episode(s) and/or part(s) that involves Dee Dee and/or her friends, Mee Mee and Lee Lee in Dexter's Lab? What are your memories of Lee Lee and Mee Mee, if you have any? 
External Links
Edit